Yesterday, we went over some tips on how to get bargain hotel prices when booking last minute. But the post also mentioned that airlines LOVE to charge prices through the roof when you are trying to book last-minute. It hurts. You need to get somewhere, and you have to pay 2x or 3x as much a regular fare because you're traveling last minute.
Are there ways to save money on last-minute airfares? Here are a few tips to keep up your sleeve.
Airlines are a funny lot. They offer super cheap tickets 10 or 11 months in advance. Then the price cycles from low to high, high to low, and up and down during holiday periods. They price match competitors. It's often hard to find a cheap fare without countless hours of searching.
But they are in business to make money, and of course we want them to stay in business! But after years of perfecting their trade, they know that last-minute, desperate travelers will pay 2x, 3x, or more to get on a plane. They've incorporated algorithms to offer exorbitant fares in the weeks, and then days, leading up to a flight.
They know that business travelers can put it on the expense account, and gladly fork over way more than is reasonable for a ticket, than if it were a leisure traveler paying.
AIRLINES VALUATION OF THEIR OWN POINTS
The funny thing is, the airlines themselves know that there are going to have some empty seats, and they know an average of how many per plane. They actually value those seats at around $0. What? That's right. The Frugal Travel Guy did an excellent write-up on this awhile back. So when they sell them, they REALLY make a profit.
Some airlines...one I know of at least, actually charges money to join their loyalty program. I can't think of any others that do.
Airlines actually make some of their biggest profits from these last-minute bookings. So as flights fill up, and get closer to day of travel, prices rise and rise, until they make their biggest profits selling the last seats.
But what if some seats are left empty? This is where we can save a bundle.
STOCK UP ON A FEW POINTS
And this is why it is good to have at least a passing interest in frequent flier points, enough to stock up and have just a few in your account if at all possible, for a rainy day. After all, would you rather pay $295, or redeem 5,800 Velocity points + $18 tax, if you had to travel from Sydney to the Gold Coast this Friday. Well, that is the price difference, when looking online right now! You are occupying the same seat, but for a far different price point.
$295 cheapest paid flight leaving in 3 days
5,800 points + ~$18 tax
I value a Velocity point at a bit over $.01 each. But in the above scenario, not factoring in the $18 in fees, you'd be getting about $.05 value per point, or 5x my valuation.
And you know what else? Standard airline practice is that when they start to see that they won't fill up the plane, by selling to last-minute customers, they starting shedding inventory by making even more free award seats available. Yep. That means they fill up the plane, and get you to use up your points, which is also good for their balance sheet. But that's OK for us, because in the above example you would have saved
~$277 dollars by using your points instead of cash.
And, since we like to travel free, or as close as we can get, then in the end we also want the airline to succeed. So, what is good for them, in this case is also great for us.
CONCLUSION
So, if you bankroll just a few miles, they could pay off very handsomely. All the more reason to get as a minimum at least one points earning card.
Ready to save $300 or more? Apply now for the American Express Velocity Gold - $99 Fee, NOW 20,000 Points (offer up 31 Jan, 2014)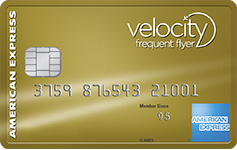 $99 signup fee, $199 fee after 1st year.

15,000 20,000! points for spending $500 within 90 days; for a total of 20,500 points.

Also, when redeeming for a flight you get one free checked bag ($30 value).